Posted by Artur Wlazlo on 27 Feb 2020
Are you struggling to maintain a gorgeous aquascape in your tank? If so, have you taken your aquarium lighting into consideration? Whether you've noticed your plants wilting or you're building your first aquascape, Modern Aquarium can help you find the best planted aquarium lights for your needs. Explore our top picks for fish-only and planted tank lights below!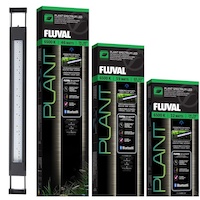 As one of the most popular choices on the market, it's no surprise that the Fluval Plant Spectrum 3.0 comes in nearly every size to allow the perfect option for a variety of tank dimensions.
In our view, this fixture is the best planted aquarium light on the market. Under these lights, you can grow just about every plant, including Anubias, Vallisneria, and Java Moss. The low-profile frame is unobtrusive and provides a minimalist look for your tank. Fluval brand is known for its quality. Not surprisingly, these lights are also built with quality materials that will last for years.
Here are some of the features Fluval lighting has:
Programmable, gradual 24-hour light cycle settings (sunrise, mid-day, sunset and night)
Wider coverage – each LED casts 120° of illumination for wider, uniform lighting without dead spots
6 unique band waves for full spectrum results
Lengths Range From 24" - 60"
Energy Saving LED Bulbs
Light spectrum perfectly formulated for freshwater plants
This light is great for planted aquaria and coupled with many great features, such as those listed above, that come at a reasonable price, we believe that these lights are overall some of the best on the market.
2. Kessil A160WE Tuna Sun Freshwater LED Light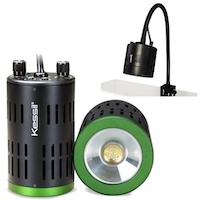 Kessil lights are truly a technological marvel. They pack many features and are very much customizable or tunable across the light spectrum of 6,000K to 9,000K. This feature allows you to completely personalize the look of your aquarium.
Kessil's lights also have densely-packed LEDs so that they emit more high-quality light than competing fixtures. What really makes these lights stand out from others, however, is the incredible shimmer effect that mimics the look of natural sunlight striking the water.
In addition, single Kessil lights can be daisy-chained or connected together into a single string of lights controlled from a single source allowing you flexibility in designing or expanding your light coverage.
They come with the following features:
Powerful and penetrating light source with wide coverage
Deep light penetration capable of reaching plants growing 24" to 30" from the water surface
Single LED array emits uniform color across the wide coverage range
Light spectrum and intensity is customizable
Innovative heat management enhances efficiency and longevity
Use it in manual mode or create unique dawn and dusk effects by altering light intensity and color throughout six different time points.
This is one of the best planted aquarium lights because it is highly customizable, high energy efficient, and makes your plants and fish great. This light fixture can be used over open-top aquariums. But this technology does not come cheap. Kessil lights are very expensive and, in our opinion and experience, Fluval Plant Light is a much better alternative.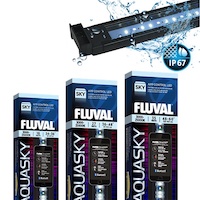 We love these lights and think that they are great for fish only aquariums as well as planted tank lights. They are effective, reliable, and affordable for tanks with plants like Rotala Red, Cryptocorynes, and Swords and most others. This unit will make your fish look particularly well because it is fitted with ultra-bright 6,500K LEDs. However, the lights are fully customizable and dimmable and have a full array of RGB LEDs allowing you to adjust red, green and blue light spectrum to make it look best for your tank.
A few of the best Fluval Aquasky's features:
Controllable and customizable through Fluval SmartApp
Stunning sky effects: cloud cover, fading lunar, storm, lightning and more
Waterproof rated (IP 67) so that you can place them close to the water surface even in open-top aquariums
Super Slim Frame and wide 120 degree light distribution providing great coverage
Length Options Range From 15" - 60"
Fluval AquaSky lights will light up your tank. Your fish will look vibrant and allow your plants to flourish. And all of these features come at an affordable price.
Lighting at Modern Aquarium
At Modern Aquarium, we strive to provide you with accessories and aquarium equipment that are of great quality and meet your every need. Explore the best planted aquarium lights we have to make your plants thrive and your fish look best and complement your aquarium aquascape like driftwood, rocks and botanicals.
If you have any questions about the appropriate lighting for your tank or you need advice pertaining to your plants, the experts at Modern Aquarium are here to help. Explore our blog or reach out to our customer service team today for additional assistance!